The texts, tables and images presented here accompany the publication of the 2021/1 issue of the Journal for the Study of British Cultures: "Histories and Trajectories: British Cultural Studies in Germany". The documents were selected by the author of the essay "How Cultural Studies Came to Germany" either because they are difficult to find, or simply for their visual poignancy.
If you have any issues with (or questions about) the documents, please contact the web admin by email. All images can be enlarged by clicking on them, and longer documents are provided as PDFs.
---
1971: Representatives of mid-level faculty demand the renewal of Landeskunde
---
1976: the CCCS presents itself on the pages of Ästhetik & Kommunikation
---
1976/1977: Gulliver 1 & 2 introduce Williams, Hall and the CCCS to Anglistik
---
1977: Informationen zur zweiten Kultur in Großbritannien
---
1978: Hard Times publishes Stuart Hall's talk he gave in West-Berlin
---
1979: Englisch Amerikanische Studien publishes Stuart Hall's talk he gave in Osnabrück
---
1979/1982/1983: German translations of classic CCCS publications appeal to readers beyond Anglistik
---
1980: The Bielefelder Oberstufenkolleg publishes Jürgen Kramer's A Materialist Introduction to the Social History of Britain
---
1980/1983: The German New Left discusses the British New Left
---
1980/1984: Buttjes, Lehberger, Lange, Husemann and others try to introduce a reformed Landeskunde and/or Cultural Studies into schools
---
1982: Davids and Stinshoff publish Rise Like Lions
---
1983/1984: Gulliver issues 13 & 15
---
1988: Critical Theory Seminar with a focus on Cultural Studies
---
1989: AnGeRo: philologies fight for their right to exist
---
1989: Cultural Studies goes Anglistentag
---
1990: Invitation and reader for CULTURAL STUDIES in den Englischunterricht
---
1990/2001: Annual British and Cultural Studies Conferences, 1990-2001
---
1991/1992: Cultural Studies Newsletter 1 & 2
---
1992: First issue of British Studies Now, explaining the British Council's take on Cultural Studies
---
1992: The Role of English in Germany and Europe post 1992
---
1993: The British Council advocates for British Studies in place of Cultural Studies
---
1993: Big news from Germany!
---
1994: British Studies Now shows Jürgen Kramer and Christopher Harvie visit the Third Warwick British Cultural Studies Seminar, August 1993
---
1994: Advertisement for the Journal for the Study of British Cultures in British Studies Now
---
1995: SPEX, a German popular music magazine, introduces Cultural Studies as an alternative to the Kulturindustriethese
---
1995: Richard Stinshoff interviewed in British Studies Now
---
1995: Advertisement for the Journal for the Study of British Cultures in The British Council's British Studies Now Anthology
---
1995/1996: Cultural Studies conferences advertised in British Studies Now
---
1997: SPEX gives an update on Cultural Studies
---
1997: Cultural Studies in the Neue Länder: the case of Dresden
---
1997/1999: Cultural Studies arrives in German academia
---
2001: Why we need a German Association for the Study of British Cultures
---
2001: Draft of the statutes of the German Association for the Study of British Cultures
---
2001: Minutes for the inaugural meeting of members of the German Association for the Study of British Cultures
---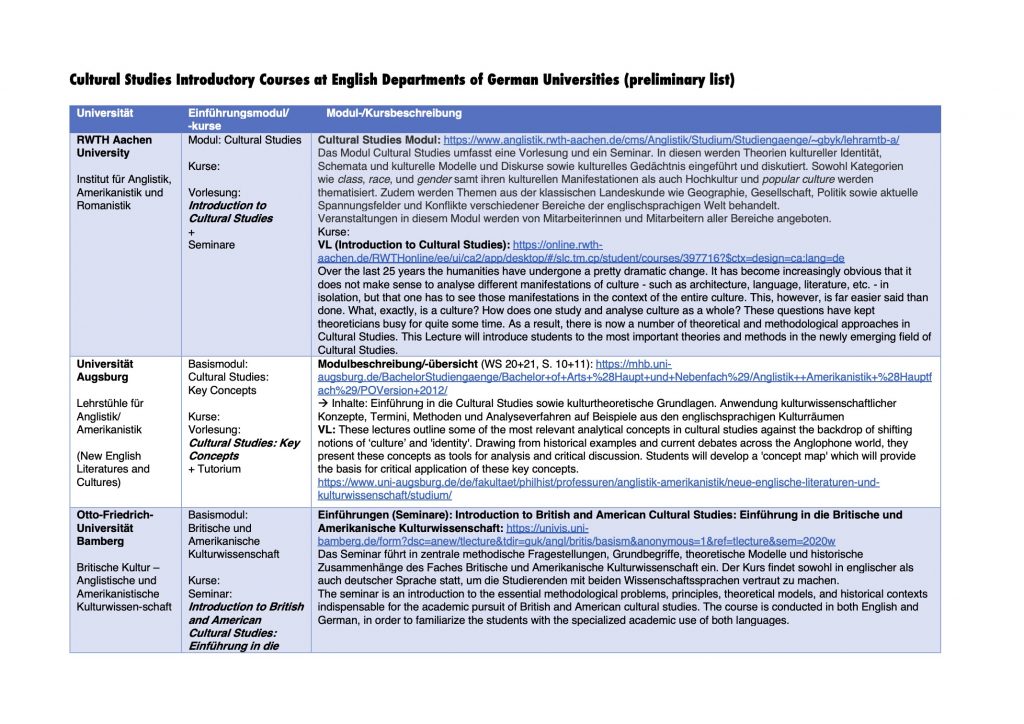 2021: List of Cultural Studies Introductory Courses at English Departments of German Universities